Event Information
Location
Palazzo "Orizzonte EUROPA"
BNL Gruppo BNP Paribas - Sede Tiburtina
Viale Altiero Spinelli, 30
00157 Roma
Italy
Description
AI WorkLab is an Incubation Program dedicated to Artificial Intelligence launched by LUISS ENLABS & LVenture Group, in collaboration with BNL Gruppo BNP Paribas, BNP Paribas Cardif, Sara Assicurazioni, Cerved Group and Payback.
AI WorkLab Roadshow events across Italy will provide a presentation of the program and prospective applicants will be able to pitch their ideas and receive immediate feedback.
---
Event Agenda
11:00 - Registration
11:30 - Speech BNL Gruppo BNP Paribas
12:00 - Speech Payback
12:15 - "AI career: how to start Early and Fast" - Cesare Furlanello - Head of Research Unit at Fondazione Bruno Kessler
12:30 - Presentation: AI Worklab - Incubating Superintelligence & Workshop - "Starting up a startup: some advice on how to survive the first 12 months" - Augusto Coppola, Director of LUISS ENLABS Acceleration Programs
13:45 - Light Lunch
14:30 - Pitch & Feeback Session*
18:30 - Closing
* Please register as "Pitch" if you want to pitch your idea and receive immediate feedback. Pitches shall last no longer than 3 minutes, slide shall be submitted at aiworklab@luissenlabs.com by the day before the event and slide size shall be 32:9.
---
VISIT AI WORKLABS' WEBSITE FOR MORE INFORMATION ON THE PROGRAM AND FIND OUT ABOUT THE LAST ROADSHOW EVENT NAPLES.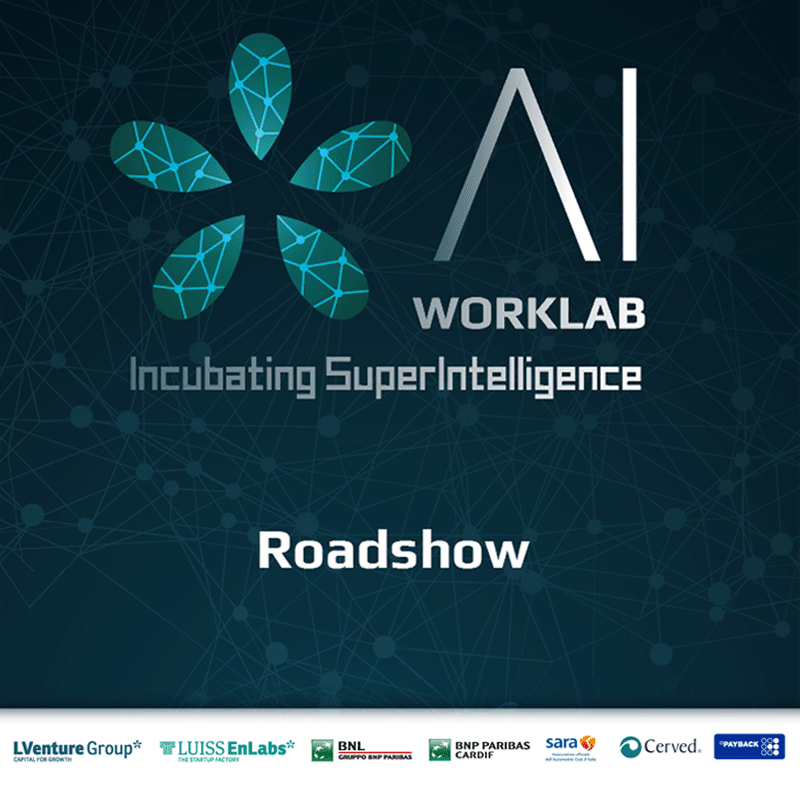 Date and time
Location
Palazzo "Orizzonte EUROPA"
BNL Gruppo BNP Paribas - Sede Tiburtina
Viale Altiero Spinelli, 30
00157 Roma
Italy