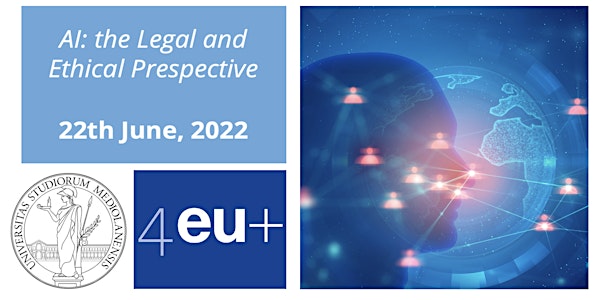 AI: the Legal and Ethical Prespective
Scientific debate and discussion. Presentation of on-line course 'Thinking AI: Bringing together ethical, legal and social aspects of AI
When and where
Location
Sala Lauree Via Conservatorio, 7 20122 Milano Italy
About this event
The event is part of the initiatives carried out within 4EU + Alliance.
The morning includes two round tables of a more scientific nature on highly debated issues concerning the ethical and legal aspects of artificial intelligence.
In the afternoon, the on-line course entitled Thinking AI: Bringing together ethical, legal and social aspects of AI that the universities of the alliances are about to launch will be presented. The course is realized with the collaboration of SCAI . The authors of some chapters will intervene to present their contents.
The latest speeches, by a computer scientist and a company that has made AI their success story, focus on the point of view of those who implement AI and program and invent artificial intelligence algorithms.
PROGRAM
22 Giugno 2022, h 9.00-16.30
Sala Lauree, via Conservatorio 7, Milano
9.00-9.30
Welcome
9.30-11.00
AI: The international private and public perspective and ethical issues
Chair: Benedetta Cappiello, Università degli Studi di Milano
Panelists:
Gabriele Della Morte, Università Cattolica del Sacro Cuore, Milano
Fabio Cozzi, Partner, Studio Legale Delfino -Willkie Farre Gallagher Llp, Milano
Cristina Schepisi, Università degli Studi di Napoli "Partenophe"
Thibault Grison, Sorbonne Université
11.00 -11-30 Coffee break
11.30-13.00
AI: The domestic and comparative perspective
Chair: Gherardo Carullo, Università degli Studi di Milano
Panelists:
Alberto Oddenino, Università degli Studi di Torino
Cristina Poncibò, Università degli Studi di Torino
Isabella Alberti, Università degli Studi di Torino
13.00-14.00 Lunch
14.00-16.30
AI: The education and learning perspective
Chair: Silvia Salini, Università degli Studi di Milano
Xavier Fresquet, Sorbonne Center for Artificial Intelligence
Presentation On-Line course: Thinking AI: Bringing together ethical, legal and social aspects of AI (4EU+ Alliance)
Fabio Scotti, Università degli Studi di Milano
The technical and technological perspective
Cosimo Fiorini, Ammagamma
Multicultural education and ingroup biases: AI as a reflection on human intelligence