Description
Advanced Eye Tracking Data Analysis in R
In this workshop participants will learn very useful methods for handling raw eye tracking data, including metrics extraction and visualization of such data. Examples of analyzing different eye tracking measures will be provided (fixations, saccades and pupil dilation).
This workshop is aimed at researchers from all fields who are familiar with eye tracking methodology and who want to advance their knowledge and analysis of eye tracking data.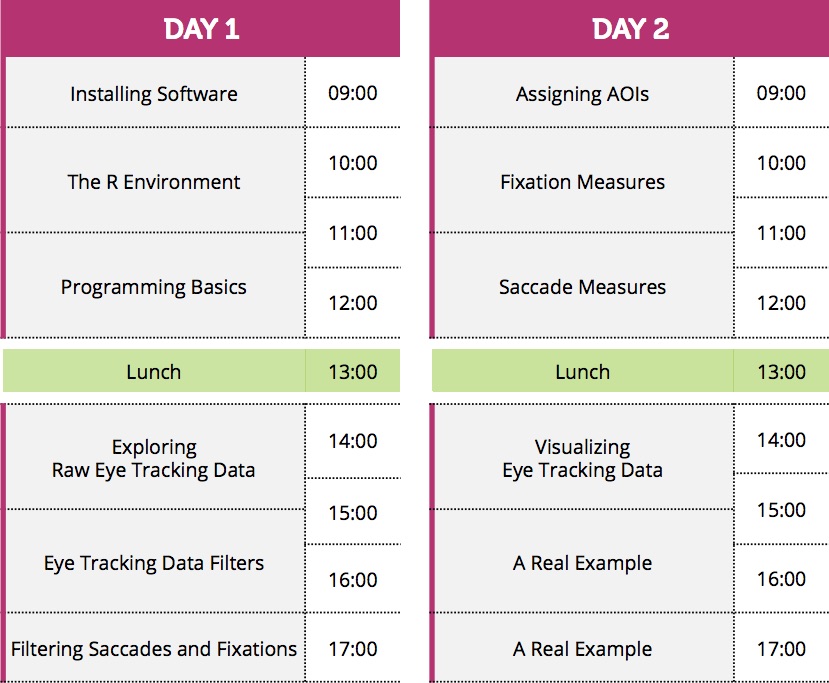 Pricing & More
Price: €400 + IVA (group discounts are available)
Dates available:

May 19-20th, 2017

September 15-16th, 2017
Place*: Spazio Pin, 5 Viale Monte Santo, 20121 Milano MI

Language of instruction: English
Deadline for registration: 8 days before the event starts
Requirements:

Basic expertise of eye tracking techniques and metholodogies
Basic programming experience is preferred but not required
Personal Computer
As we believe the best way to learn is by practice, all participants will also get a 30-day email support to help them applying what they learned in the workshops to their own data.
The fee includes participation in the workshop for a single person, materials used during the workshop in digital format, snacks and drinks during breaks.
About the instructor:
During his studies at Ludwig-Maximilians University in Munich, Dr. Aldaqre has gained extensive research experience in the field of psychology, employing different research methodologies including Eye-Tracking. He is currently offering scientific support and working on the development of metrics and services for eye tracking technology at SR Labs S.r.l. Additionally, he is continuing his collaboration with the department of developmental psychology at LMU.
---
* Depending on the number of participants, the venue could be changed.
FAQ
How can I get to the location?
Spazio Pin is located in the very centre of Milan and is well connected to the main trains and metro stations.
By Metro: M2= Repubblica (300m); M2/M3= Centrale (1200m)
By Train: Central Station (1200m); connected with M2 and M3
By Car: Close to the venue there are several paid parking spaces
What should I bring with me?
To get the best out of this workshop you must bring a Personal Computer with you.
Our trainings are mostly experience-based and we will get through a lot of coding exercises.
Can I cancel my registration and get a refund?
Cancellation is free until 12 days before the event start and includes a full refund (100%).
If you cancel your registration until 5 days before the event start, the refund will cover 50% of the original price.
Refund is not provided for cancellations submitted less than 5 days before the event start.