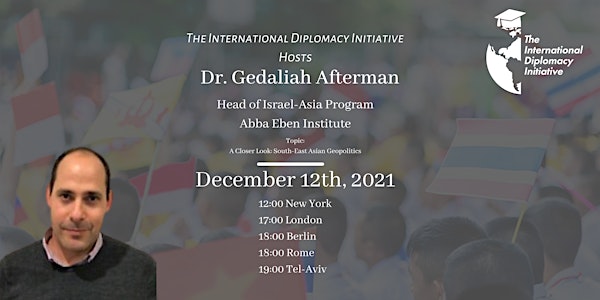 A Closer Look: South-East Asian Geopolitics
The International Diplomacy Initiative presenting: "A Closer Look: South-East Asian Geopolitics" by Dr. Gedaliah Afterman!
About this event
Given the current geopolitical climate and the growing American-Chinese hostility, there is an urgent need to address the importance of a balanced approach to regional affairs, as well as the need for analysis and dialogue among South-East Asian states. In our upcoming event The International Diplomacy Initiative will host a lecture on the importance of Southeast Asia diplomatically, strategically, and economically and the impact of the struggle between Association of Southeast Asian Nations (ASEAN) member states.
Join us on December 12th for The International Diplomacy Initiative's upcoming Digital Global Event with guest speaker Dr. Gedaliah Afterman!
Dr. Gedaliah Afterman served as an International Strategy Officer for the Australian Foreign Office, where he dealt with issues related to regional security and cooperation in Asia, and as a diplomat at the Australian Embassy in Beijing. He was later appointed a research fellow at the International Peace Research Institute in Oslo (PRIO) and led the China program at the Institute for Jewish People's Policy Planning (JPPI) in Jerusalem.
In parallel with his position at the Institute, Dr. Afterman serves as a lecturer at the Lauder School of Government and Diplomacy at Reichman University and the Head of the Israel-Asia Policy Program at the Abba Eban Institute for International Diplomacy. Dr. Afterman holds a Ph.D. in Philosophy from the University of Melbourne.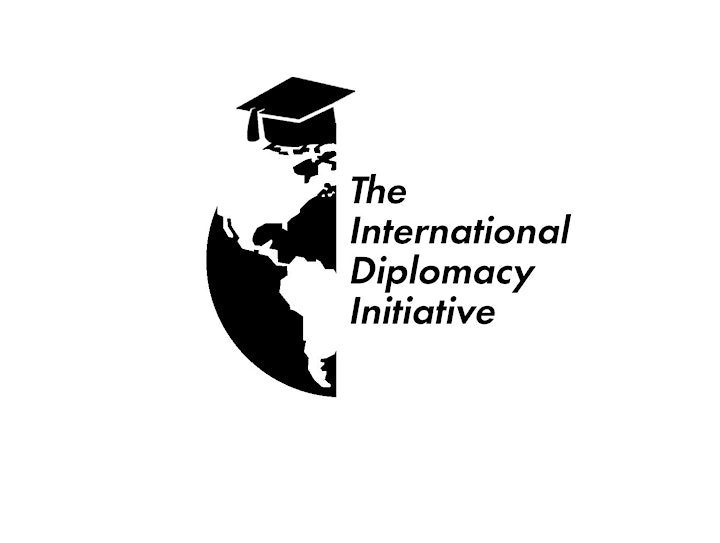 The International Diplomacy Initiative (IDI) is an international, student-run nonprofit organization dedicated to advancing diplomacy throughout the world. Engaging students and practitioners with real-world diplomatic experience through lectures and other events, IDI seeks to provide the next-generation of diplomats with the skills needed to enact global change.
The Initiative cooperates with embassies, multilateral organizations, NGOs, and more to engage young people in Israel and around the world.
Further info about the IDI you can find in our website
Interested to get involved in the IDI? please click here