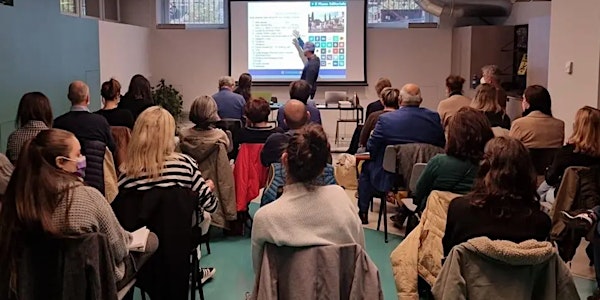 6 Luglio Free Lab: A Midsummer Digital Dream @ The Student Hotel
Alta Formazione per l'Alta Stagione! - Digital Strategy, SEO, Revenue Management (Free Edition!) - 6 Luglio 2022 @ The Student Hotel!
When and where
Location
The Student Hotel Florence Lavagnini 70 Viale Spartaco Lavagnini 50129 Firenze Italy
About this event
LOCATION: The Student Hotel (Auditorium)
DATA: 6 Luglio 2022 (ore 15-18)
TARGET: Gestori e proprietari B&B, case vacanza, agriturismi, ville, castelli
DOCENTI: Marco de la Pierre - Paolo Ramponi - Marco Nicosia - Matteo Gazzarri
TEMATICHE: Digital Strategy per il turismo, SEO Advanced Hospitality, Teoria e Tecnica di Revenue Management, Comunicazione visual
Il mondo del turismo - pur nel caos generale di questi folli tempi - è comunque ripartito alla grande e noi del team di Turismo Digitale come sempre siamo ben felici di contribuire alla ripresa ed al consolidamento di questo settore attraverso l'erogazione gratuita di corsi di Alta Formazione tagliati su misura per il mondo del turismo e dell'hospitality!
In occasione del lab del 6 Luglio (in presenza, ca va sans dire!) si affronteranno le tematiche fondamentali del marketing turistico e in particolare parleremo di:
1) PIANO EDITORIALE TURISMO di Marco de la Pierre
Analizzeremo insieme i segreti di un piano editoriale perfetto per la vostra struttura turistica. Verrà presentato un case study di successo.
2) KEYWORDS: COME SCEGLIERE LE MIGLIORI PER LA VOSTRA COMUNICAZIONE DIGITALE? di Paolo Ramponi
Come selezionare le migliori keywords (generiche e di coda lunga) per la promozione online della vostra attività turistica? Tools, Tips and Tricks che vi aiuteranno nell'analisi e nella scelta delle parole chiave più rilevanti per il vostro business!
3) REVENUE MANAGEMENT: RIMANIAMO SUL PEZZO (ANZI, SUL PREZZO) ANCHE IN ALTA STAGIONE! di Marco Nicosia
Come ottimizzare al meglio le strategie di pricing in tempi di forte domanda turistica? Una lecture fondamentale per approfondire la teoria e le tecniche di una disciplina fondamentale per la vostra attività turistica ricettiva!Per iscriversi a questo lab gratuito e per ritrovare - finalmente in presenza! - amici e colleghi del settore turistico di Firenze e della Toscana iscrivetevi gratuitamente da questa pagina.
Vi aspettiamo allo Student Hotel di Firenze! ;)