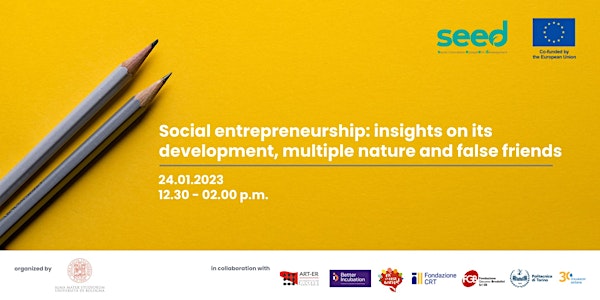 5th Webinar SEED Capacity Building Programme
Social entrepreneurship: insights on its development, multiple nature and false friends.
About this event
The Webinar is organized by Università di Bologna in collaboration with: ART-ER, Better Incubation, Fa' la cosa giusta, Fondazione CRT, Fondazione Giacomo Brodolini, Inkubator Sežana, Politecnico di Torino.
The field of social entrepreneurship is various and complex. It includes multiple actors and it's developing more and more. The webinar aims to give insights on this field, presenting recent research data about Europe and Italy. The data helps to depict a clearer situation, even if social entrepreneurship is still growing and constantly changing. After the first introductory contribution, the webinar focuses on specific cases and approaches which favour the development of social entrepreneurship.
Specific approach to sustain social entrepreneurship are presented, such as the tight partnership of a public actor with social entrepreneurs and incubators, and policy recommendations on how to sustain inclusive incubation. Afterwards, Italian and European actual cases of social enterprises are described and commented, in order to share with participants potentialities and criticalities of social entrepreneurship.